Fatra Gliding Cup 2016 › Results › Day 4 › 26.11.2016
Training Day 1 Day 2 Day 3 Day 4 Day 5 Day 6 Day 7 Overall Results
Racing Task | Final Results | Maximum Points: 651 | Day Factor = 1.0000
| | | | | | | | | | | |
| --- | --- | --- | --- | --- | --- | --- | --- | --- | --- | --- |
| # | | PILOT | CN | RN | PLANE | DISTANCE | TIME | SPEED | PEN | POINTS |
| 1 | | T Broty | TB | OK-0516 | Ventus2 | 263.92 km | 02:07:37 | 124.1 km/h | 0 | 651 |
| 2 | | Helmut Kuenne | F9 | D-2318 | ASW27 | 263.92 km | 02:08:54 | 122.8 km/h | 0 | 643 |
| 3 | | Jon Holland | 123 | G-RUSH | ASW27 | 263.92 km | 02:12:20 | 119.7 km/h | 0 | 621 |
| 4 | | Radek Mica | RUM | OK-5417 | LS6 | 263.92 km | 02:14:34 | 117.7 km/h | 0 | 607 |
| 5 | | Miodrag Ivanovic | IDM | YU-1039 | ASW27 | 263.92 km | 02:17:11 | 115.4 km/h | 0 | 592 |
| 6 | | Petr Sadik | 63 | OK-6538 | Ventus2 | 263.92 km | 02:19:19 | 113.7 km/h | 0 | 580 |
| 7 | | Valentin Tornavi | 574 | RA-SLY | ASW27 | 263.92 km | 02:19:33 | 113.5 km/h | 0 | 579 |
| 8 | | Erwin deBruin | EDB | PH-1969 | ASW27 | 263.92 km | 02:20:12 | 112.9 km/h | 0 | 575 |
| 9 | | Lubos Faitz | LFM | OK-4812 | Ventus2 | 263.92 km | 02:20:15 | 112.9 km/h | 0 | 575 |
| 10 | | Martin Semrad | MSE | OK-DAR | Ventus2 | 263.92 km | 02:21:25 | 112 km/h | 0 | 569 |
| 11 | | paca84 laurent | LM1 | PACA84 | Ventus2 | 263.92 km | 02:25:01 | 109.2 km/h | 0 | 550 |
| 12 | | Wlodzimierz Kowalski | DB9 | SP-2964 | ASW27 | 263.92 km | 02:25:21 | 108.9 km/h | 0 | 548 |
| 13 | | Dmitry Andreyev | D2A | - | ASW27 | 263.92 km | 02:27:10 | 107.6 km/h | 0 | 539 |
| 14 | | Hans Nyc | JN | OK-6200 | Ventus2 | 263.92 km | 02:29:11 | 106.1 km/h | 0 | 529 |
| 15 | | Miomir Ivanovic | MIO | 4O-001 | ASW27 | 263.92 km | 02:30:35 | 105.2 km/h | 0 | 522 |
| 16 | | Jan Cejpa | HCE | OK-0304 | Ventus2 | 263.92 km | 02:31:54 | 104.2 km/h | 0 | 516 |
| 17 | | Jiri Adam | ADX | OK-0024 | Ventus2 | 263.92 km | 02:33:52 | 102.9 km/h | 0 | 507 |
| 18 | | Aleksey Chernov | AV7 | AIRMAN | ASW27 | 263.92 km | 02:35:13 | 102 km/h | 0 | 501 |
| 19 | | Filip Vita | 2Y | OK-5129 | Ventus2 | 263.92 km | 02:35:54 | 101.6 km/h | 0 | 498 |
| 20 | | Miro Kucera | MK7 | OM-2507 | Ventus2 | 263.92 km | 02:36:21 | 101.3 km/h | 0 | 496 |
| 21 | | MIME ERIC | J51 | ACT40 | LS6 | 263.92 km | 02:37:34 | 100.5 km/h | 0 | 491 |
| 22 | | Nikolay Pavlov | IW7 | IW-777 | ASW27 | 263.92 km | 02:50:52 | 92.7 km/h | 0 | 437 |
| 23 | | jiri holub | JHO | OK-4408 | Ventus2 | 263.92 km | 02:56:34 | 89.7 km/h | 0 | 417 |
| 24 | | Petr Plinta | 7T | OK-0357 | LS6 | 263.92 km | 02:58:45 | 88.6 km/h | 0 | 409 |
| 25 | | Josef Spirik | S50 | SPIRA | Ventus2 | 173.86 km | | | 0 | 243 |
| 26 | | Michel Valade | VAM | F-CEVI | LS6 | 170.62 km | | | 0 | 239 |
| 27 | | Rudolf Kalousek | R1K | OK-7777 | Ventus2 | 157.51 km | | | 0 | 221 |
| 28 | | Pavel Snajdr | ST | LT5 | Ventus2 | 110.96 km | | | 0 | 155 |
| 29 | | Jaro Pincek | H7 | PINDAS | Ventus2 | 161.67 km | | | 0 | 0 |
| 30 | | Mathias Muench | MMU | D-2197 | ASW27 | 135.52 km | | | 0 | 0 |
| 31 | | Jiri Ehrenberger | PJE | OK-6417 | ASW27 | 56.9 km | | | 0 | 0 |
| 32 | | Eman Sadik | EMA | OK-1940 | Ventus2 | 53.56 km | | | 0 | 0 |
| 33 | | Pawel Lis | PLP | SP-3679 | Ventus2 | 37.4 km | | | 0 | 0 |
| 34 | | Petr Polach | SOP | OK-6808 | Ventus2 | 32.72 km | | | 0 | 0 |
| 35 | | Slava Raduga | 050 | RA-DUGA | ASW27 | 25.96 km | | | 0 | 0 |
| 36 | | Zdena Zazova | BZZ | OK-3710 | Ventus2 | 18.84 km | | | 0 | 0 |

Download IGC files (all pilots in one ZIP file) | Detailed results (mCR, mIAS, Detour%...)
Briefing › Day 4 › 26.11.2016 › 20:00 CET › Saturday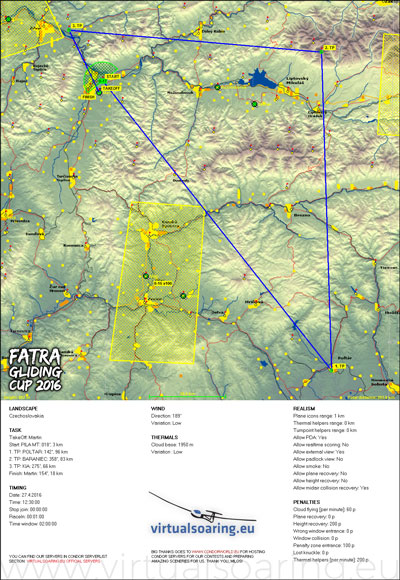 Server:Fatra Gliding Cup 2016
Password:
Date:26.11.2016
Time:20:00 CET (19:00 UTC)
Join time:30 min.
---
Landscape:Czechoslovakia 3.0
Plane class:15-meter Class
Task type:Racing Task
Race-in time:1 min.
Time window:120 min.
Start time:12:30:00
Condor date:27.04.2016
Start altitude:max. 1700 m QNH
---
TakeOff:Martin
Start:PILA MT
1. TP:POLTAR
2. TP:BARANIEC
3. TP:KIA
Finish:Martin
Distance:264 km
---
Cloudflying not allowed! Circeling in the direction of climb is determined by the first glider in thermal. If you have doubts about the circeling direction, ask in the chat. Attention: some penalty zones (CTR/TMA) are active, please watch your PDA all the time! Please FLY SAFE, good luck to all pilots.
---

Download Flightplan (FPL file)
---